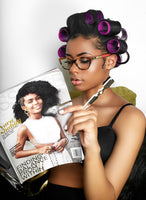 What is the EdgifiHER™ ?
❤ EdgifiHER™ is a chic & edgy cosmetic hair tool for ALL hair types to not only create the perfect edges but to also tames those fly-aways on the go!
❤ It is a multi-functional hair tool that has a long sleek tail used to detangle, tease and section the hair! And yes it can also soothe that annoying itch of the scalp!
❤ We have incorporated the shape and nylon bristles typically used in a toothbrush into each design, but the EdgifiHER™ delivers a more glamorous, sanitary and convenient edge styling tool.
❤ The EdgifiHER™ is designed to include black bristles to conceal product residue from the aftermath of hair gels/dyes.
SHOP NOW
MORE TO COME...
❤ EdgifiHIM™ Brush
❤ EdgifiHER™ Apparel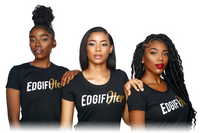 FOLLOW @EDGIFIHER ON INSTAGRAM